Welcoming Others to the Cross Road   through the Grace and Truth of Jesus
Cross Road Christian Fellowship is a group of Christ-followers who share together in the journey along the Cross Road–living in a relationship with Jesus and with one another.  We welcome you to join us on the Cross Road where every day is an adventure of  faith, the only path of eternal security!  We welcome you as you are; rich or poor, rough or refined, your thoughts, ideas and even your doubts. Many of us have been disillusioned (or worse) at some point in our life as followers of Christ.  At Cross Road, we struggle together to enjoy simplicity as a family of faith, as we share His love and truth with our world.
Rev. Richard Jones, Pastor
______________
______________
IMPORTANT ANNOUNCEMENT 
Come join us on Sundays at 11:00 a.m.
There will be no Nursery or Children's Church at this Time.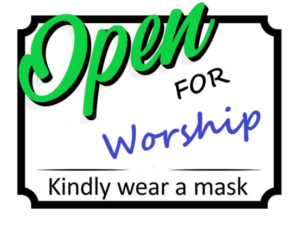 YOUR DESIRES TO MEET TOGETHER AND YOUR DESIRES TO BE SAFE WILL BE HONORED. THERE WILL BE PLENTY OF OPPORTUNITIES TO WORSHIP WITH US. COME WORSHIP WITH US INSIDE OUR CHURCH OR VIA BROADCAST TO YOUR VEHICLE IN THE CHURCH PARKING LOT IF THE SPIIRIT LEADS YOU. THE KITCHEN DOOR WILL BE OPENED FOR RESTROOM ACCESS.           SOCIAL DISTANCING AND CLEANLINESS PRACTICES WILL BE OBSERVED. WE WILL MEET RAIN OR SHINE!          ALSO, A RECORDING OF THE MESSAGE WILL BE POSTED ON-LINE  MID TO LATE SUNDAY AFTERNOONS.             THERE WILL NOT BE A NURSERY OR CHILDREN'S CHURCH PROVIDED.
SUNDAY BIBLE STUDIES, WEEKDAY BIBLE STUDIES AND THE YOUTH GROUP WILL CONTINUE TO MEET ON-LINE. WE WILL NOTIFY YOU VIA OUR FACEBOOK PAGE AND WEBSITE WHEN WE WILL RESUME THESE PERSON-TO-PERSON MEETINGS. 
SERMON MESSAGES, SUNDAY BIBLE STUDIES AND PRAISE AND WORSHIP MUSIC WILL BE POSTED BELOW AND ON OUR FACEBOOK PAGE.
_______________
                              A MESSAGE ABOUT
There will be no interruption in our food pantry distribution on the third Thursday of each month, 3-5 pm. Because We Care.
_________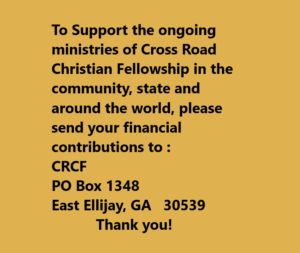 _____________
Join With Us For Our Current Series:
"

Encounter Ephesians

"
Sundays at 11: 00 a.m.
____________
Sundays at 11:15 – 11:35 a.m. EST
(Click on the icon above to go to our Facebook page)
___________
Click on the link below to listen to the latest message:
"ENCOUNTER EPHESIANS" SERIES
Sermon by Rev. Richard Jones
September 20,
2020
Current Messages Are Posted Sunday Afternoons
_______________
If you like you may register your visit with us!
Thank you.
________________
                     Sunday Bible Study for                         September 20

, 2020
For Children:
  Preschool : 
Grades K-5 : 
"Big and Strong" performed by Saddleback Church Kids- Motions
"Ask Seek Knock" performed Hillsong Kids
For Middle and High School: 
For College and Career:
Kreig Todd, Student & College Pastor,                                                     Easthaven Baptist Church, Brookhaven, MS
"For All He's Done" performed by West Coast Baptist College
Adult Explore the Bible Study Series:
For Young Adults: 
For Senior Adults:
_________________

     Music for 9-20-20
"I Know"  by Big Daddy Weave
"Nobody Loves Me Like You" by Chris Tomlin
"God Who Moves The Mountains" performed by Corey Voss
"Great Is The Lord"  by Michael W. Smith
"Are You Washed In The Blood?" (Modern) Arr. & Perf. by Hymn Charts
____________
CRCF and Covid-19
The Youth Group will meet online per Youth Director Gabby Owen's directions.

We will continue to be the Church we are called to be.

We can place faith over fear.

We will continue to fellowship and care for one another via telephone.

We can continue to study the Word of God daily.

We can meet each other online at our Facebook page which is very active with Bible study, daily devotions, encouragement and inspirational posts.

We can continue to give benevolently to the work of God's Kingdom by sending our offerings to Cross Road's PO Box 1348, East Ellijay, GA 30539

Finally, we can continue to pray for each other, our leaders, our country and world.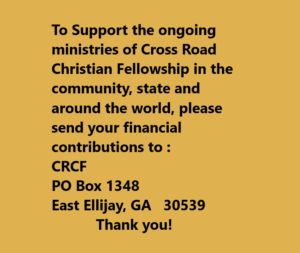 _______
You are invited to follow Cross Road Christian Fellowship on:
    Facebook