Welcoming Others to the Cross Road through the Grace and Truth of Jesus
Cross Road Christian Fellowship is a group of Christ-followers who share together in the journey along the Cross Road–living in a relationship with Jesus and with one another.  We welcome you to join us on the Cross Road where every day is an adventure of  faith, the only path of eternal security!  
We welcome you as you are – rich or poor, rough or refined, your thoughts, ideas and even your doubts. Many of us have been disillusioned (or worse) at some point in our life as followers of Christ. At Cross Road, we struggle together to enjoy simplicity as a family of faith, as we share His love and truth with our world.
We have a contemporary style of worship in rural Gilmer County along "Apple Alley" (Highway 52 East)  just a few miles outside of the City of Ellijay. Our dress is casual and we are wheelchair accessible. We have an excellent Teaching-Pastor, Rev. Richard Jones.
Come join us on Sundays at 10:00 a.m. for Sunday School (all ages) and at 11:00 a.m. for Worship.
There is a Nursery & Children's Church during the Worship Service
To listen to the latest message and view the message outline click the link below:
February 05, 2023
Psalm 34:22b (NLT2)
The LORD will redeem those who serve him. No one who takes refuge in him will be condemned.
  __________________________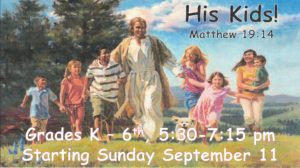 Bring your kids and grandkids to "His Kids" at CRCF for music, games, Bible stories and a meal for the kids on Sundays at 5:30 pm. In Matthew 19:14 Jesus said, "Let the little children come to me, and do not hinder them, for the kingdom of heaven belongs to such as these." For more information, contact Mike Mayfield at 706-669-5064. Hope to see you there!
_______________________

Youth Group
Meets Sundays at 5:30 pm
________________________
___________________________

Our Food Pantry Distribution is on the Third Thursday of each month, 3-5 pm. Because We Care
_________________

____________
You are invited to follow Cross Road Christian Fellowship on:
 Facebook